► 82pct of Spaniards support strike demands of equal pay, gender quality ►
Tens and perhaps hundreds of thousands of women throughout Spain are expected to march, rally and take hours away from their jobs and professions, childcare, shopping and other domestic work on Thursday, as part of the 8M Huelga Feminista (women's strike), protesting the pay gap between men and women, demanding an end to gender violence and calling for gender equality and greater rights for women in all spheres of Spanish society.
The strike in Spain, part of a global movement this International Women's Day that will see women demanding their rights in more than 40 countries worldwide, is expected to turn out thousands of women and supporters for rallies and marches in more than 108 Spanish cities.
The Federación Estatal de Organizaciones Feministas (Coordinadora Feminista, National Federation of Feminist Organisations) has published a list of rallies, marches and other activities in 68 of Spain's major cities at it's Feminista.org website, from Almeria to Zaragoza, Burgos to Lanzarote, Madrid to Cadiz, Malaga, Lleida, Granada, Valencia, Barcelona, the Balearics and Canary Islands, and more.
► Click to see list of 'Huelga Feminista' rallies and marches at Feminista.org …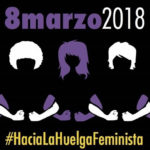 The 8th March strike has garnered broad organizational support from women's rights advocacy groups, professional associations, labour unions and several of Spain's political parties. The country's two principal trade-union federations, the UGT and CCOO, wills stage official work stoppages of two hours per each shift on Thursday in support of women's demands of equal pay for equal work, while smaller unions, including the anarcho-syndicalist CNT and CGT, have called their workers out for a full 24-hour strike.
Spain's political parties are divided on the strike, with notable support for the huelga from left-of-center opposition parties, including the Socialist party (PSOE) and Podemos , while the governing Partido Popular (PP) and centre-right Ciudadanos parties expressed initial opposition — apparently due to the strike manifesto's attack on capitalism's exploitation of women and for an end to "hetero-partiarchal" domination of society, with a not-so-veiled reference from a PP spokesman to the strike being "against our way of life".
A Metroscopia poll published this week by the daily newspaper El País shows that as many as 82 percent of all Spaniards fundamentally support the 8th March strike and the motivation behind it of equal pay and equal rights for women.
► Read More in Spanish at El Diario, La Vanguardia and 20 minutos …
► Read More in English at The Local and Thomson-Reuters …
► Click to read more news about Women's Rights in Spain …
Check out more news from Spain about:
► Animal Welfare ► Corruption/Transparency ► Discrimination ► Education ► Environment & Sustainability ► Fair Trade & Development Aid ► Healthcare ► Historical Memory ► Housing & Homelessness ► Human Rights ► Labour & Unemployment ► LGBT ► Peace & War ► Politics ► Poverty ► Refugees & Migration ► Technology & Social Enterprise ► Women's Rights