• Podemos ~ We Can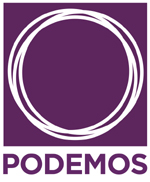 Podemos is a left-wing populist and anti-austerity party founded in January 2014 with the goal of leveraging and channeling the successful 2010-11 mobilizations of indignados, citizens angry and literally "indignant" over the deep economic malaise that followed the 2008 global mortgage default crisis, accompanied in Spain by widespread home repossessions, evictions, job layoffs and draconian government social spending cuts.
Under the leadership of Podemos General Secretary Pablo Iglesias, in Spain's general election of Dec. 2015, running in conjunction with its three regional coalition partners — En Marea (Galicia), Compromís (Valencia) and En Comú Podem (Catalonia) — Podemos received 5.190 million votes, or 19.03 percent of all ballots cast. In the subsequent formation of parliamentary groups within the Congress of Deputies, four of nine Compromís deputies opted to split from Podemos, the remaining five joining the Podemos-En Comú Podem-En Marea parliamentary group for a total of 65 of 350 seats, making it the third largest force in Spain's lower house of parliament.
In May 2016, after talks to reach a coalition government with the Socialist party broke down, Podemos sought and reached an agreement with Izquierda Unida (IU, United Left) to form an electoral coalition for the second-round 26th June 2016 general elections that would include additional parties and field candidates under the name of Unidos Podemos (United We Can).
In the 26th June 2016 general election, the coalition competed as Unidos Podemos and won 3.201 million votes for 13.37 percent of the total vote nationwide, giving it 45 seats and making it the third largest political force represented in the Congress of Deputies, Spain's lower house of parliament. Adding in the votes won by its regional affiliate coalitions  En Comú Podem (848,526 votes), Compromís (655,895) and En Marea (344,143), the combined Unidos Podemos electoral effort won 5,049,734 votes — nearly 1.063 million fewer than the combined 6,112,596 won separately by Izquierda Unida (IU), Podemos and its affiliates in the December 2015 general election.
Podemos is widely considered to have been spawned by the country's indignados movement, also referred to as the 15-M movement, or simply 15-M, in reference to the date of 15th May 2011 in which a group of Spaniards literally "indignant" over over government-imposed austerity measures first occupied the Puerta del Sol square in downtown Madrid. That event sparked a mass movement that spread to protests in other cities throughout 2011-12 calling for "real democracy" and greater citizen participation in economic and political decision making nationwide.
While Podemos is not a direct extension of the indignados movement, in the formation of the party some of the leaders and bases of 15-M were incorporated, along with two other key groups that joined in the protests but had long been active in left-wing politics in Spain: one, formed around a group of professors from Madrid's Universidad Complutense, most notably a political science professor and former Spanish Communist Party (PCE) and Izquierda Unida (IU, United Left) member, Pablo Iglesias; the other, the radical Izquierda Anticapitalista (Anti-capitalist Left) organization, which evolved out of the Trotskyist Liga Comunista Revolucionaria (LCR, or Revolutionary Communist League).
In its first electoral outing in the May 2014 European parliamentary elections, Podemos polled a surprising 7.98 percent of total ballots nationwide to win 5 of the country's 54 seats in the European Parliament. In March 2015 regional elections in Andalucía, Podemos won 14.4 percent of the vote for 15 of 109 seats in the Andalucian regional parliament and two months later in May 2014 municipal elections nationwide, Podemos-supported coalition candidates were elected mayor in Madrid, Barcelona, Valencia, Zaragoza, Cadiz and other cities.
More about Spain's Podemos party can be found online at the following links:
Updated as of 12/2019
► Go to main page of POLITIFILE DIRECTORY, here …