► Unions plan workplace assemblies to discuss gender inequality on the job ►
It's official: hundreds of thousands of workers affiliated with Spain's two largest trade union federations are poised to shut down assembly lines and shop floors on International Women's Day for for three two-hour periods during morning, afternoon and evening shifts in support of the 8th March Huelga Feminista (Feminist Strike) mobilization to claim equal rights for women in Spain.
On Monday, representatives of the Workers Commissions (CCOO, Comisiones Obreras) and General Union of Workers (UGT, Unión General de Trabajadores) formally registered the strike action with the government's Ministry of Employment. The move paves the way for official work stoppages by the federations' more than 2 million members nationwide from 11:30-13:30 on morning shifts, 16:00-18:00 during afternoon shifts and for the first two hours of overnight shifts that begin on 8th March.
Speaking to reporters after the filing Monday, CCOO and UGT leaders said the two federations have called the work stoppages to protest wage inequality between men and women, along with chronic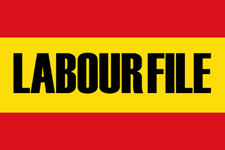 unemployment among women in Spain. At the same time, they said they want to denounce violence against women in Spain and what they see as a weak response from  government to combat the problem, as well as generally inadequate government policies to deal with gender inequality at all levels of Spanish society.
The labour action is being coordinated with the 8th March general strike of women called by more than 100 Spanish feminist groups to protest machista violence against women, gender inequality in the workplace, home and classrooms, and to call for women to have the sole right to decide on reproductive issues affecting their own bodies.
► Click to read more in Spanish about the 8th March Huelga Feminista …
Rather than a full 24-hour work stoppage, the labour leaders said they had decided on the two-hour shutdowns on each shift as the best means of raising awareness among male and female workers about workplace issues related to gender inequality. During the stoppages, shop assemblies will be held to discuss issues that negatively impact women in the workplace, particularly the growth of part-time and temporary contracts and discrimination against women in determining bonuses and wage supplements that translate into greater take-home pay for men.
► Read More in Spanish at Europa Press, Cadena Ser and Reuters …
► Click to read more news about Women's Rights in Spain …