► Unidos-Podemos resolution says gov't should rescind 'public interest' status ►
The Interior Commission of Spain's Congress of Deputies has called upon the Partido Popular (PP) government of President Mariano Rajoy to revoke the "public interest" status that accords special tax exemptions to the ultra-Catholic association Hazte Oír, on the grounds that homophobic messages it advertises on a bus it circulates throughout Spain amount to "incitement to hatred" toward LGBT people.
The resolution, which was put forward by the Unidos Podemos–En Comú Podem–En Marea paralimentary group and supported by deputies of the Socialist party (PSOE), Partido Nacionalista Vasco (PNV), Esquerra Republicana de Catalunya (ERC), and Partit Demòcrata Europeu Català (PDeCAT), again puts pressure on the government after it ignored a March 2017 resolution passed by 205 members of the full Congress calling for rescission of the "association of public interest" status that keeps Hazte Oír exempt from paying taxes on the organization's 2.6 million euros annual budget.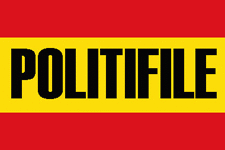 The Rajoy government subsequently responded to last year's Congressional vote saying that its hands were essentially tied, because it could only rescind the organization's status if it were shown that Hazte Oír fails to meet legal requirements for qualifying as a public-interest group.
The sponsors of the Interior Commission resolution passed Tuesday said it is inconceivable that "an entity that has made incitement to hatred its main activity should maintain the legal benefits" intended for truly public-interest organizations. The only committee members not to vote in favor of the resolution Tuesday were deputies of Rajoy's party and Ciudadanos, who chose to abstain.
Although the Hazte Oír bus has been barred from circulating in some Spanish cities, including Barcelona and Madrid, it is regularly is seen across Spain bearing its signature advertising slogan: "Boys have a penis. Girls have a vulva. Don't let them fool you. If you're born a man, you're a man. If you're born a woman, you'll continue being one." In addition, the organization has organized campaigns against television ads and a television series in which families have same-sex parents, as well as distributing LGBTphobic pamphlets in schools in the Castilla-La Mancha region.
► Read More in Spanish at Europa Press and Público…
► Click to read more news about LGBT issues in Spain …