• Partido Nacionalista Vasco ~ Basque Nationalist Party (EAJ-PNV) •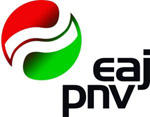 The Basque Nationalist Party (EAJ, Euzko Alderdi Jeltzalea in Basque; PNV, Partido Nacionalista Vasco in Spanish) is a centre-right political party active in the northwest autonomous community of the Basque Country (Pais Vasco) that promotes Basque nationalism, while not favoring full independence from Spain.
Spain's second-oldest political party, founded in 1895, the EAJ-PNV is also active in the neighboring autonomous community of Navarre and enjoys political support across Spain's northwest border in the French Basque Country. The party maintains links with Basque diaspora communities abroad, through offices in Venezuela, Argentina, Mexico, Uruguay, Chile and the United States.
After Spain's return to democracy in the late 1970s, the EAJ-PNV governed the Basque Country continuously following devolution of Basque autonomy in the early 1980s until 2009 and currently has governed the region in a minority government since 2013. At the European level, the EAJ-PNV is affiliated with the European Democratic Party and the Alliance of Liberals and Democrats for Europe (ALDE).
In Spain's most-recent 10th November 2019 general election, the PNV won 377,423 votes, for a 1.57 percent share of the total vote, up slightly from the 1.51 percent it won in the last-previous elections in April 2019. The party's vote total gave them one additional seat over the previous legislative session for a total of 7 seats in Spain's 350-member national Congress of Deputies.
More information about the Partido Nacionalista Vasco is available at the following links online:
Updated as of 12/2019