• Esquerra Republicana de Catalunya ~ Republican Left of Catalonia (ERC) •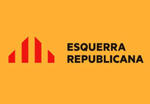 Esquerra Republicana de Catalunya (Republican Left of Catalonia), also known by its initials as ERC or simply Esquerra, is a centre-left Catalan party that favours an independent Republic for Catalonia.
The ERC was founded in 1931 during the Second Spanish Republic as the Catalan affiliate of Spanish Prime Minister Manuel Azaña's Izquierda Republicana party, which represented the liberal professions, small business, teachers and lower middle class bureaucrats. The ERC was Catalonia's dominant political party both during the Second Republic and the Spanish Civil War of 1936-39. A minor party in Catalonia after Spain's transition to democracy in the 1980s, the growth in support for Catalan independence from Spain since the 1990s has increased the ERC's membership and influence substantially.
In the 10th November 2019 general election, the ERC ran candidates only in Catalonia and won 869,934 votes, for a 3.61 percent share of the total vote, representing a loss of 145,421 votes and 0.28 percent from its 3.89 percent vote share in the last-previous elections in April 2019. The party's 2019 vote total translated into a loss of two seats from the previous legislative session for a total of 13 seats in Spain's 350-member national Congress of Deputies.
In its nationalism, the ERC holds to the broadest definition of the Catalan "nation", defining it as extending across the Spanish autonomous regions of Catalonia, Valencia, the Balearic Islands and the Catalan-speaking 'Western Strip' area of Aragon, as well as the Catalan-speaking area of France's Languedoc-Roussillon-Midi-Pyrénées department, referred to by Catalan nationalists as Catalunya Nord (Northern Catalonia). In addition to Catalonia's regional Parlament, ERC has successfully fielded candidates in elections and holds seats in the regional assemblies of Valencia and the Balearic Islands.
Espousing a social-democratic ideology that enables it to claim representation of workers, professionals and small- to mid-sized businesses alike, the ERC is not affiliated with any labour movement or organisation, does not define itself as either socialist or Marxist and has never affiliated with any European or international federations of socialist or social-democrat parties. Currently, the party is affiliated with the European Free Alliance of parties advocating for devolution, self-governance, full political independence or sovereignty for their region or country; it also forms part of the Greens–European Free Alliance (Greens/EFA) group in the European Parliament.
More information about Esquerra Republicana de Catalunya is available at the following links online:
Updated as of 12/2019