• Partido Popular ~ People's Party (PP)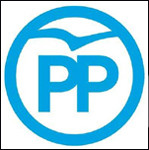 Spain's Partido Popular, or PP, is the country's largest conservative party and was formed in 1989 through the fusion of various right-wing parties and movements, principally the Partido Unido de Alianza Popular, known simply as the Alianza Popular (People's Alliance), founded by former Minister of Information and Tourism during the Franco dictatorship, Manuel Fraga, and six other former Franco-era ministers; and the Unión de Centro Democrático (UCD) (Union of the Democratic Centre) alliance of parties, founded by the former Minister Secretary General of Franco's Movimiento Nacional (National Movement), Adolfo Suárez, who became Spain's first post-Franco president from 1977-82 and spearheaded democratic reforms during the period known as the "Democratic Transition."
A full member of the European People's Party, the federation of Christian-Democrat and conservative parties from countries across Europe, the PP is the largest party represented in the European Parliament and the European Council, and holds 16 of Spain's 54 seats in the European Parliament.
In the 10th November 2019 general election, the PP won 5,019,869 votes, for a 20.8 percent share of the total vote, up from 16.7 in the last-previous elections in April 2019. The party's total vote translated into 88 seats in Congress, representing a gain of 22 seats over the previous congressional session.
Since the first post-Franco democratic elections were held in 1982, the PP governed Spain during two previous periods, from 1989-2004 under the administration of President José María Aznar, and again from 2011-2015 under the administration of President Mariano Rajoy.
More about the Partido Popular can be found online at the following links:
Updated as of 12/Nov/2019
► Go to main page of POLITIFILE DIRECTORY, here …