► Move isolates PP, paves way for repeal of controversial security measures ►
After nearly a year of parliamentary delays orchestrated by Spain's governing Partido Popular (PP), deputies in Spain's Congress are now finally one step closer to full debate on two separate legislative proposals aimed at repealing the most egregious measures of a controversial two-year-old Ley de Seguridad Ciudadana (Law for Citizens' Security), passed in 2015 over the objections of all other political parties by the PP's absolute majority of seats in Congress at that time.
The stalemate over the bills submitted last March by the Socialist party (PSOE) and the Partido Nacionalista Vasco (PNV) was broken on Tuesday, when after ten months of voting together with the PP representatives on the nine-member congressional Mesa Directiva (executive committee) to repeatedly postpone moving the legislation forward, the centre-right Ciudadanos party finally submitted its proposed amendments to both bills. The move effectively isolates the PP as the only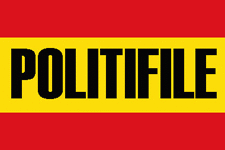 party now opposed to moving forward with the proposals and unable, with just three votes on the nine-member Mesa, to further block consideration and debate by the full chamber.
The controversial security law, referred to by critics as the Ley Mordaza ("Gag Law") has been widely condemned for its restrictions on freedom of speech and assembly by Spanish and international rights organizations, including Reporters without Borders, the International Press Institute and Amnesty International, which in its just-released 2017/18 global report on human rights singled out the security law for criticism.
The Ley Mordaza carries stiff penalties and fines for 44 different infractions, ranging from 600 euros for anyone found guilty of the broadly defined charge of "disrespecting a police officer" to penalties and fines of as much as 600,000 euros for staging a protest rally or march not previously approved or authorized by government authorities. It also makes it a crime to photograph police officers arresting individuals, breaking up protests or engaged in any activity while on or off duty.
► Click to read more news in English about Spain's controversial 'Gag Law' …
The reform bill submitted by the PSOE last year and accepted with 176 votes of the 350-member Congress in favor, would completely replace the PP's security law with new legislation; the PNV proposal, accepted with 211 votes in favor, would partially amend and remove the most serious affronts to civil liberties contained in the PP law. After moving to the congressional Interior Committee for possible incorporation of amendments by other parties and likely amalgamation, the bills are expected to be reintroduced as a single piece of legislation for debate on the full floor of Congress and almost-certain passage by a 176 simple majority of votes needed for approval.
The move Tuesday by Ciudadanos is seen as the result of the party's strengthened position in voter preference surveys in recent months, combined with its increasing frustration with the PP over the governing party's reluctance to boldly attack corruption with its ranks or to deliver on pledges on electoral reform and other measures agreed in 2016 by President Mariano Rajoy in exchange for Ciudadanos' support for a second term in office.
► Read More in Spanish at Público, El País and La Vanguardia …