The high-profile spokesperson for Spain's new ultra-right VOX party in the Madrid regional assembly, Rocio Monasterios, has found herself at the center of a growing scandal over her role in a series of questionable real estate deals in the Spanish capital involving both her and her husband, VOX congressional spokesman Iván Espinosa de los Monteros.
Monasterios and Espinosa are currently the focus of an investigation by the Madrid city government over at least three residential loft properties they jointly developed without ever having applied for or received building licenses, then sold on to purchasers for a total of 1.5 million euros. The deals came to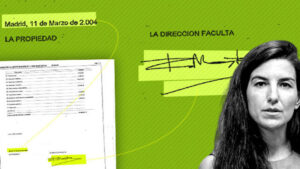 light only after the new owners were turfed out by city inspectors who found that the properties they were illegally converted by the Monasterios and Espinosa.
According to Spanish press reports, Monasterios has also been found to have signed building permits, representing herself as a qualified architect for several years prior to actually receiving her title and license. The VOX spokeswoman founded her own architecture firm in the year 2000, performing architectural oversight on multiple projects, but did not receive her professional certificate as a qualifying architect until 2009.
► News Sources: El Diario, Europa Press and El País …
Monasterios assumed a high-profile position within the VOX party in Madrid after regional elections in May that made the ultra-right party pivotal in blocking the Socialist party (PSOE) candidate and ultimately seating Isabel Díaz Ayuso of the conservative Partido Popular (PP) as president of the Madrid community.
Espinosa de los Monteros became the highly visible spokesperson for VOX in the national Congress following the election of 24 congressional deputies for the party in Spain's last general elections in May. The couple have been married since 2001.
► Click to read more news about Corruption & transparency in Spanish politics…
Check out more news from Spain about:
► Animal Welfare ► Corruption/Transparency ► Discrimination ► Education ► Environment & Sustainability ► Fair Trade & Development Aid ► Healthcare ► Historical Memory ► Housing & Homelessness ► Human Rights ► Labour & Unemployment ► LGBT+ ► Peace & War ► Politics ► Poverty ► Refugees & Migration ► Technology & Social Enterprise ► Women's Rights

All images at ProgressiveSpain.com are the copyright of their respective authors/owners and are reproduced here for non-commercial, journalistic purposes in accordance with Fair Use doctrine. All other content is Copyright © 2015-2019 ProgressiveSpain.com and is licensed under a Creative Commons Attribution-NonCommercial-ShareAlike 4.0 International License.