► VOX ►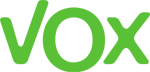 VOX is a far-right national political party launched in January 2014 by former members of the conservative Partido Popular (PP), generally disenchanted at the time with a perceived centre-right drift of the former PP government of ex-President Mariano Rajoy and, specifically, with the Rajoy government's comparatively lenient attitude toward Basque and Catalan separatism.
VOX ran candidates for the first time in the May 2014 European Parliamentary elections, with a generally poor showing nationwide — its 3.94 percent of the vote in the Madrid community the highest percentage of votes garnered in any region of Spain and the party barely garnered enough votes to win just one seat in the European parliament.
In Andalucian regional elections of December 2018, the party ran successfully on an anti-immigrant and Spanish nationalist platform to win 10.81 percent of the vote and 12 seats in the Andalucian regional parliament, tipping the majority of seats to parties to the right of centre and effectively shedding the perception of VOX being an insignificant player in Spanish politics.
In the 10th November 2019 general election, VOX won 3,640,063 votes, for a 15.1 percent share of the total vote, which was up 10.26 percent from the previous general election in April 2019. The party's vote total translated into 52 seats seats in Spain's 350-member national Congress of Deputies, a gain of 28 seats over the previous congressional session.
Since 2014, the president of the VOX party has been Santiago Abascal, a former PP deputy in the Basque regional assembly from 2004-09. A personal friend of former PP President José Maria Aznar, Abascal is also the founder of the ultra-nationalist Fundación para la Defensa de la Nación Española (DENAES, or 'Foundation for the Defense of the Spanish Nation'). The party's general secretary is Javier Ortega Smith-Molina, a Madrid attorney and former member of the Spanish military's elite special operations branch.
You can find out more about VOX at the following links:
Updated as of 12/Nov/2019