Madrid's city council has ordered preparation of a study leading to the development of a price index to be used in setting limits on the rents of residential properties citywide.
The government of Madrid Mayor Manuela Carmena has announced the study and index of all residential rental properties across the capital city in keeping with a mandate established in the federal budget proposal for 2019 negotiated between the national governing Socialist party (PSOE) and its sometimes ally in Congress, the left-wing party Podemos .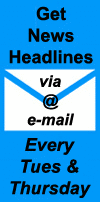 The 2019 budget proposal, currently being reviewed in Brussels before its anticipated submission in December to Spain's Congress for debate, would if approved allow municipal governments across Spain to limit rent increases based on locally established criteria. In Madrid, where rental prices have been soaring in recent months, the task for setting the criteria for limiting the increases falls to Mayor Carmena's governing Ahora Madrid movement, which came to power with Podemos backing in May 2015 municipal elections and subsequently garnered support from the Madrid municipal branch of the PSOE.
According to José Manuel Calvo, the Ahora Madrid city councilor in charge of sustainable urban development for the local government, the study ordered last week will result in an index of residential properties that will allow the city to set a maximum price on rents according to individual characteristics of a property, including the quality, size or area of the city in which the flat or house is located.
According to Calvo, the study is expected to be completed by the end of the current government's tenure, which will terminate with the nationwide municipal elections on 26th May, and the index and pricing limits would be enacted by the next city government soon thereafter.
Last month, Carmena announced that she will again run for mayor of Spain's capital in the upcoming elections, this time representing a broader coalition, which is expected to include direct support from the Socialists. Should she win as anticipated in 2019,  her cabinet will likely include non-partisan independents along with members of of the current Ahora Madrid movement and political parties Podemos and PSOE.
► Read More in Spanish at El Diario, El Boletín and El País …
► Click to read more news about Housing and Homelessness in Spain …
Check out more news from Spain about:
► Animal Welfare ► Corruption/Transparency ► Discrimination ► Education ► Environment & Sustainability ► Fair Trade & Development Aid ► Healthcare ► Historical Memory ► Housing & Homelessness ► Human Rights ► Labour & Unemployment ► LGBT ► Peace & War ► Politics ► Poverty ► Refugees & Migration ► Technology & Social Enterprise ► Women's Rights