► 'Cruz de los Caidos' removed by PSOE-led local council in Callosa de Segura ►
An ongoing dispute over a divisive symbol of Spain's Franco dictatorship continued to trigger clashes between opponents and supporters of its removal even as it was taken down by municipal workers in the early morning hours of Monday in the town of Callosa de Segura, about 30 kilomters inland from Torrevieja in Alicante province.
On orders of the town council, which is governed by a coalition led by the local branch of Spain's Socialist party (PSPV-PSOE) with support from Izquierda Unida (IU, United Left) and the local Somos political movement, employees of the Callosa public works department removed the controversial Cruz de los Caídos ("Cross of the Fallen") from the central Plaza de España square.

► ► CLICK ABOVE TO WATCH VIDEO ► ►
The cross had stood on a marble pedestal in the square since being erected in the 1940s to commemorate the deaths of 80 civilian supporters of the right-wing military uprising of July 1936 that sparked Spain's bloody three-year Civil War, which ended with the defeat of forces loyal to the democratically elected Spanish Republican government.
Gathered under banners lauding the founder of the Spanish Falange movement, José Antonio Primo de Rivera, believed murdered in 1936 while held in an Alicante jail following his arrest by Republican forces, some 400 opponents that included current members of the Falange giving fascist salutes had gathered in the town square over the weekend to protest the cross's removal.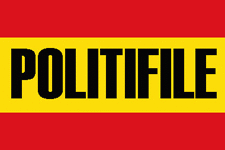 At midnight on Sunday, Guardia Civil police moved in to escort protesters out of the plaza, who left to shouts of the Franquista slogan Arriba España and "Callosa resiste, por Dios y por la patria" ("Callosa resists, for God and country").
The go-ahead on the cross's removal had been ordered by a circuit-court judge in Elche on the grounds that it was not a religious symbol, but a political symbol honoring the nationalist cause that brought dictator Francisco Franco in 1939 and therefore in violation of the ban on such monuments under the terms of Spain's 2007 Law of Historical Memory.
An appeal by opponents of the removal to the Superior Court of Justice of the Comunitat Valenciana (TSJCV) did not stop the municipality, with a temporary stay on the removal issued by the higher court coming later on Monday, after the monument had already been removed. The pedestal with the names of the 80 martyrs of the nationalist cause remains in place, however, pending a further ruling by the TSJCV judges.
► Read More in Spanish at Las Provincias, Levante-EMV and El Mundo …
► Click to read more news about Franco Era & Historical Memory in Spain …