► Focus on number of years used to calculate worker retirement benefits ►
A fresh battle is brewing in Congress over a proposal by the governing Partido Popular (PP) to substantially extend the numbers of years used to calculate retirement pension benefits, which Spanish labour federations and the Socialist party (PSOE) say could continue to undercut the monthly amount that future generations of pensioners will receive at retirement.
As part of pension-reform talks carried out within the framework of the Pacto de Toledo accord, so-named after an historic pensions reform agreement reached by all parties in Spain's Congress in 1995, the PP proposed this week that the number of years of work used to calculate retirement pensions due future generations of Spanish workers be extended beyond the current 25 years to as many as 35-40 years, representing virtually the entire working lifetime of many Spaniards.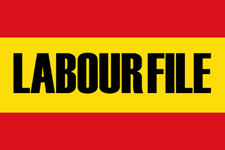 Through 2012, the formula used to determine retirement pensions was calculated on the average wage during the last 15 years of a worker's employment and was based on the supposition that most workers will experience their highest wage levels during the last years on the job prior to retirement age.
In 2013, a PP absolute majority in Congress pushed through a controversial reform that increased to 25 years the basis for the calculation, pitched as a remedy for the decrease in wages of those facing imminent retirement and whose average earnings had fallen sharply during Spain's 2008-13 economic crisis, a period in which many lost their jobs and remained unemployed or underemployed for months and years on end.
Critics at the time, however, said the 2013 changes to the calculation regime did little to offset the de facto penalization of workers reaching retirement age. Now, the PP says its latest proposal to further increase the number of years used in the calculation to virtually the entire working lifetime of many people will finally fix the problem.
But Spanish labour unions and parties on the political left again disagree and say it will have a negligible impact. Both the UGT and CCOO labour federations say a new reform must include a differential calculation that compensates workers for the negative effects on their retirement pensions of the several years of sharply reduced earnings for many during the economic crisis years.
A spokesperson for the UGT cited International Monetary Fund (IMF) projections that the value of Spain's retirement pensions will fall by 33 percent in the coming years under the current calculation regime. A reform that simply extends the number of years used in the calculation will negatively impact the unemployed and underemployed youth population, she said, which sees a future in which stable employment and higher earnings over their working lifetime seem increasingly unlikely.
► Read More in Spanish at El Periódico, Europa Press and El País …
► Click to read more in English about Labour & Unemployment in Spain …