? Clerical workers union launches plan to get women counseling, protection ?
A Spanish labour union representing administrative and clerical workers in the public and private sector nationwide says that every day in Spain at least one woman is compelled to leave her job as a result of gender violence, whether because she is unable to continue working due to domestic abuse at home or feels the need to change workplaces because of harassment and stalking by a current or former partner. This issue has become more evident in Spain recently, but gender violence and sexual harassment is an issue all over the world. Whether women are being targeted multiple times, or just once by a derogatory comment, many women have to look towards a sexual harassment attorney as a result of workplace treatment.

? ? CLICK ABOVE TO WATCH VIDEO ? ?
The Central Sindical Independiente y de Funcionarios (CSIF, or "Independent Administrative Workers Union") said last week that over the past five years, 1,395 women in the public sector have left their jobs or been reassigned to other positions because of gender violence.
According to a union spokesperson, the 1,395 women who had to leave their jobs represent "only the tip of the iceberg" of thousands of cases of workers who are victims of gender violence and domestic abuse but do not come forward to denounce their aggressors. Their cases also represent a great loss for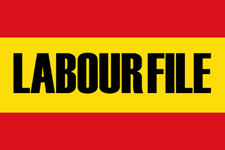 employers and fellow employees in the workplace, says the union, because each one of the victims who has left her job must be substituted by a male or female co-worker who must then be trained to replace them.
Together with a Spanish NGO working to end gender violence, the Asociación Ilicitana contra la Violencia de Género (AIVIG), and Spain's National Police, the CSIF has launched a new national program to help combat the problem that will train more than 10,000 union representatives in workplaces across the country to recognize the signs of domestic abuse in co-workers and assist them in getting counseling help and police protection from their male aggressors.
? Read More in Spanish at Público and El Mundo …
? Click to read more about gender violence & domestic abuse in Spain …