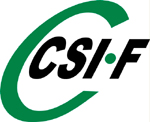 The Central Sindical Independiente y de Funcionarios (CSIF, Independent Administrative Workers Union) represents administrative and clerical workers in Spain's public and private sector.
The second-largest representative of public sector administrative workers and claiming to be the fourth-largest labour federation nationwide, today's CSIF evolved out of the Confederación Sindical de Funcionarios union founded in 1978 during Spain's transition to democracy, following four decades of dictatorship under Francisco Franco, during which labour unions were outlawed.
Today, the federation has regional in all 17 autonomous communities of Spain, as well as the North African enclaves of Ceuta and Melilla. In addition to a growing presence in the private sector the union represents public sector administrative and clerical workers in Spain's judicial system, government offices at local, regional and national levels, the Spanish healthcare system and schools and universities nationwide.
The CSIF is not aligned with any political party or social movement in Spain and its membership is not restricted to any social class, which has led others in the Spanish labour movement to classify it as a "conservative" union organization. At the European level, the CSIF is affiliated with the European Confederation of Independent Trade Unions.
► Learn more about CSIF at the following links online:
Updated as of 01/2018
► Click to read more news about Labour & Unemployment in Spain …