• Unidos Podemos ~ United We Can •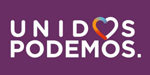 Unidos Podemos is a national coalition formed for the 26th June 2016 general election campaign, amalgamating 14 national and regional left-wing political parties and having as its principal partners the populist "new-left" Podemos party; the legacy "old-left" Izquierda Unida (United Left, IU) alliance, led by the Partido Comunista Español (Spanish Communist Party, PCE); and the smaller, national environmentalist party, Equo.
Joining these coalition leaders are Podemos' three regional coalition allies — Catalonia's En Comú Podem (In Common We Can), Valencia's Coalició Compromís (Commitment Coalition), and Galicia's En Marea (The Tide) — as well as eight smaller regional social-democrat, communist and environmentalist parties and movements, including: Mes per Mallorca-Balears, Batzarre-Asamblea de Izquierdas, Unidad Popular en Común, Izquierda Asturiana, Construyendo la Izquierda-Alternativa Socialista, Segoviemos, Izquierda Castellana and Democracia Participativa.
The Unidos Podemos coalition will be listed on ballots nationwide as "Podemos-IU-Equo-CLIAS", with variations in some of the regions that will also necessitate up to four different ballot logos appearing for the coalition across all regions. In off-ballot campaign branding, the coalition identifies itself simply as Podemos Unidos, incorporating into those words a heart with rainbow coloring in a graphical reflection of its positive national campaign slogan, La sonrisa de un país (The Smile of a Country); the rainbow heart seems also symbolic of the coalition leaderships' promise to respond to any negative attacks during the election campaign with alegría revolucionaria (literally, "revolutionary joy").
Inside the Unidos Podemos coalition, decision-making power on the executive committee is apportioned according to the principal parties' perceived strengths, with Podemos holding 75 percent of the votes, IU-United Left 25 percent and Equo 5 percent. It has been agreed by the parties that when government subsidies for operating expenses are issued to all parties participating in the 26th June elections, the Unidos Podemos subsidy will be split between Podemos (76 percent) and IU-United Left (24 percent).
Despite the Podemos leadership's oft-stated aversion to broad-front electoral amalgams branded with an "alphabet soup" of party names and initials, in May 2016 Podemos and IU-United Left agreed on the coalition strategy as a means of overtaking Spain's mainstay leading left-wing Socialist party (PSOE, Spanish Socialist Workers' Party) in the 26th June re-run of the indecisive 20th December 2015 general election, after which no party was able on its own or in coalition to lead a new government.
In the 2015 general election, Podemos and its three regional partners received 5.190 million votes, or 19.03 percent of all ballots cast, ending up with a total of 65 of 350 seats in the Congress of Deputies, Spain's lower house of parliament (69 seats, if counting four Compromís deputies who opted out of joining the Podemos parliamentary group). Izquierda Unida won 923,133 votes for 3.67 percent of total votes cast, giving it 2 seats in Congress.
In that same election, the PSOE won 5.531 million votes (22.01 percent of total votes cast), giving it 90 of 350 seats in the Congress of Deputies, returning it to the position of leading opposition party within Spain's lower house of parliament.
Voter preference surveys in the run-up to the 26th June elections indicate that the combination of parties under the Unidos Podemos umbrella may deliver more votes to the coalition than those obtained by PSOE, though possibly not the greater number of seats in Congress needed to become the leading left-wing opposition party.
More about Unidos Podemos can be found online at the following links:
Updated as of 06/2016