► Pepe Álvarez welcomes Errejón's 'Más País' to debate over labour legislation
► Leader sets end to "Gag Law", workplace equality as targets for new gov't
The leader of the UGT (Unión General de Trabajadores or General Union of Workers), Spain's oldest trade union federation, has called for Spain's political parties to come together to form a progressive government following upcoming 10th November general elections in order to repeal amendments made to the country's labor legislation under the previous conservative government and to get rid of Spain's so-called "Gag Law" on national security, which he said prevents union activities from being carried out with complete freedom.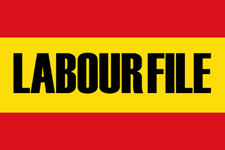 Speaking during the trade union federation's 130th anniversary celebration at the weekend, UGT general secretary Pepe Álvarez said Spain's trade union movement must work to address the emergence of technology and its impact on the workforce and to achieve gender equality and implement equal pay for men and women in the workplace.
He also said Spain's labour movement needs to continue to push for full employment with respect for the environment and economic growth that does not contribute to global warming and climate change.
Álvarez also issued a warm welcome to the political scene to the new Más País party launched last week by Podemos co-founder and former leader Íñigo Errejón, who was present at the UGT's anniversary event, along with Vice-President Carmen Calvo of Spain's Socialist party (PSOE) and other political leaders.
Álvarez said the arrival of Más País should bring a breath of fresh air to the debate over changes needed in Spanish labour legislation and that the new party will help Spanish trade unions to recover labour rights lost under the conservative Partido Popular governments of former President Mariano Rajoy from 2011-2017.
► Read More in Spanish at InfoLibre, Europa Press and El Plural …
► Click to read more news about the Trade unions movement in Spain …
Check out more news from Spain about:
► Animal Welfare ► Corruption/Transparency ► Discrimination ► Education ► Children's Rights ► Environment & Sustainability ► Fair Trade & Development Aid ► Healthcare ► Historical Memory ► Housing & Homelessness ► Human Rights ► Justice ► Labour & Unemployment ► LGBT ► Peace & War ► Politics ► Poverty ► Refugees & Migration ► Technology & Social Enterprise ► Women's Rights

All images at ProgressiveSpain.com are the copyright of their respective authors/owners and are reproduced here for non-commercial, journalistic purposes in accordance with Fair Use doctrine. All other content is Copyright © 2015-2019 ProgressiveSpain.com and is licensed under a Creative Commons Attribution-NonCommercial-ShareAlike 4.0 International License.