More than 200 mainly Sub-Sahara African migrants managed to scale the border fence separating Morocco and the Spanish enclave city of Melilla on Sunday, with one migrant dying of a heart attack at the scene and another 19 injured, along with six Guardia Civil officers.
The assault by the migrants occurred at the Pinos de Rostrogordo sector of the fence, the same area where more than 200 migrants successfully scaled the chain-link fence using metal hooks and improvised cleated shoes in an effort to reach European soil via Spain's North African enclave city in January.

► ► CLICK ABOVE TO WATCH MIGRANTS SCALING MELILLA BORDER FENCE► ►
Repeated attempts to scale the border fences at Melilla and Ceuta by large groups of migrants that the Spanish Interior Ministry claims are organized by human-trafficking rings has prompted the government to activate a 25-year-old accord with Morocco for the summary expulsion of migrants from third countries who attempt to reach the Spanish enclave cities illegally from Morocco.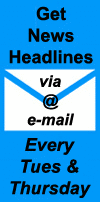 Following Sunday's incident, the Interior Ministry announced it had immediately deported back to Morocco 55 of the 209 migrants who had scaled the Melilla fence and entered Spanish territory. Those expulsions bring to 195 the total number of migrants expelled to Morocco under the terms of the 1992 treaty between the two countries.
That agreement has been roundly criticized by Spanish non-governmental organizations working on behalf of migrant rights, who say it violates Spain's commitments under international and EU agreements governing human rights and the treatment of migrants.
In late-July, more than 600 mostly Sub-Saharan African migrants stormed and vaulted the chain link fence at the north African enclave of Ceuta, reportedly hurling stones and quick lime at border guards and injuring 26 in the process. Following the confrontation, the Spanish government expelled 116 of the migrants involved.
► Read More in Spanish at El Mundo, El País and Europa Press …
► Read More in English at Deutsche Welle and El País…
► Click to read more news about Immigration & Refugees in Spain …
Check out more news from Spain about:
► Animal Welfare ► Corruption/Transparency ► Discrimination ► Education ► Environment & Sustainability ► Fair Trade & Development Aid ► Healthcare ► Historical Memory ► Housing & Homelessness ► Human Rights ► Labour & Unemployment ► LGBT ► Peace & War ► Politics ► Poverty ► Refugees & Migration ► Technology & Social Enterprise ► Women's Rights