The Spanish government agency that oversees work conditions and compliance with social security legislation is preparing to take the Deliveroo food delivery company to court over its alleged use of free-lance autonomo workers in order to avoid providing permanent employment and accompanying social security and other benefits.
The move comes after a Valencia judge ruled on 6th June that ex-rider Víctor Sánchez had performed all the work of a full-time employee for Deliveroo, but had been required by the company to register with Spain's Treasury and Social Security departments as a free-lancer to enable Deliveroo to avoid paying its share of the rider's Social Security contributions.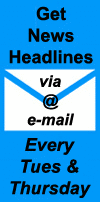 The American-owned London-based Deliveroo operates in two hundred cities across the UK and Europe, as well as in Australia, Singapore, the United Arab Emirates and Hong Kong. The company said last year it relies on 30,000 freelance bike riders worldwide to whom it outsources delivery of prepared food from restaurants to customers who place their orders online via the Deliveroo app.
Complaints filed by Deliveroo riders in Spain have now been accepted for processing by offices of the government's Inspección de Trabajo agency in both Valencia and Madrid. Prosecutors at courts in other Spanish cities where similar complaints have been filed against Deliveroo are said to be awaiting word on a trial date so that all complaints may be consolidated into a single case against the company in Spain.
► Read More in Spanish at Público, La Vanguardia and El Diario …
► Click to read more news about Labour & Unemployment in Spain …
Check out more news from Spain about:
► Animal Welfare ► Corruption/Transparency ► Discrimination ► Education ► Environment & Sustainability ► Fair Trade & Development Aid ► Healthcare ► Historical Memory ► Housing & Homelessness ► Human Rights ► Labour & Unemployment ► LGBT ► Peace & War ► Politics ► Poverty ► Refugees & Migration ► Technology & Social Enterprise ► Women's Rights