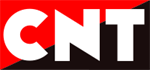 The Confederación Nacional del Trabajo (CNT, or National Confederation of Labour), is the modern-day successor to Spain's historic anarcho-syndicalist trade union that was rooted in various 19th-century Spanish anarchist movements, then founded in Barcelona in 1910. The federation does not make public its membership numbers, but recent unofficial estimates place the number of CNT members at anywhere from 10,000 to 50,000.
Historically with hundreds of thousands of members throughout the 19th and early 20th centuries, the CNT's membership diminished sharply during the Franco dictatorship, when it operated clandestinely and from exile. After Spain's transition to democracy in the 1980s, the CNT's remaining membership suffered from a split in the organization — while the union won a court battle to retain its name, a large percentage of its membership and leadership split off to form the rival Confederación General del Trabajo (CGT, General Confederation of Labour), which is today by some accounts Spain's fourth (or fifth) largest trade union organization, with membership estimated at around 80,000.
At the height of its early membership, the CNT had some 700,000 members as it led or participated in various general strikes until being outlawed in 1922, during the Primo de Rivera dictatorship. After the fall of the monarchy in 1931, the CGT offered only tepid support to the government of the Second Republic, but was legalized by the Republican government in 1936 and remained so until the end of the Spanish Civil War. Along with the affiliated Federación Anarquista Ibérica (FAI, or Iberian Anarchist Federation), the CGT played a lead role in the rearguard internecine street fighting of May 1937 in Barcelona, described by George Orwell in the book Homage to Catalonia. After dictator Francisco Franco's death in 1975, the CNT was the only labour or political organization in Spain to refuse to sign the 1977 Moncloa Pact that paved the way for a return to democracy.
Today, the CNT represents workers in the public and private sectors, at companies ranging from small-to-mid-size businesses through multinationals. With 11 regional offices and dozens of local chapter affiliates throughout Spain, the CNT is particularly strong among railway workers and dockworkers in Barcelona, Valencia and other port cities in Spain. It negotiated on behalf of workers in the 2007 strike in Catalonia against supermarket chain Mercadona, which was the longest strike ever in the history of Catalonia, and was an active participant that same year in the hard-fought strike by workers in Madrid's metro system.
An historic member of the International Workers' Association (IWA) of anarcho-syndicalist labour organizations worldwide, in the midst of a growing rift within the IWA over doctrinaire issues that included whether or not to participate with non-anarcho-syndicalist unions in labour negotiations, in 2016 the CNT was expelled from the IWA along with the Italian USI and German FAU anarcho-syndicalists trade-union federations.
► Learn more about the CNT at the following links online:
Updated as of 03/2018
► Click to read more about Labour & Unemployment in Spain …