► Confederación General del Trabajo (CGT) ~ General Confederation of Labour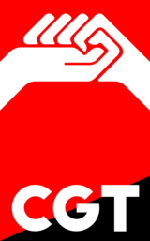 The Confederación General del Trabajo (CGT, General Confederation of Labour) is an anarcho-syndicalist labour union and Spain's fourth-largest labour organization in membership terms, claiming around 80,000 affiliated members. It purports to be third-largest in terms of the number of labour-management company committees on which its representatives hold seats nationwide.
The CGT was formed after a split in the 1980s among the leadership and membership with the Confederación Nacional del Trabajo (CNT, or National Confederation of Labour), Spain's historic anarcho-syndicalist trade union that was rooted in various 19th-century Spanish anarchist movements before being founded in Barcelona in 1910.
In 1989, the outgoing leadership and membership lost a court battle to retaint the CNT name and since 1990 the new union has operated as the CGT. Unaffiliated with any political party or movement in Spain, the CGT remains, like does its parent CNT organization, an anarcho-syndicalist federation of trade unions. The CGT differs from other major Spanish labour unions in its rejection of union elections and workplace committees, while seeing strike action — particularly the general strike — as a tool of social revolution.
The CGT maintains a strong presence nationwide in the transport and communications sector, especially in the automotive sector, where it represents workers at plants owned by General Motors, Volkswagen-SEAT, Renault, Nissan, Ford, and other supplier companies in the sector. It also has strength among hotel and hospitality workers, in janitorial and building maintenance, among government workers, in Spain's Correos postal service, and within the banking, healthcare, education and telecommunications sectors. Geographically, the union represents workers in private and public sector in all of Spain's 17 autonomous communities, with a particularly strong presence in Catalonia, Andalucia, Madrid and the Valencian community.
► Learn more about the CGT at the following links online:
Updated as of 03/2018
► Click to read More about Labour & Unemployment in Spain …