While Spain was on momentary pause the day before national elections at the weekend, climbers from Greenpeace España scaled Barcelona's iconic Columbus monument at the foot of the Ramblas to protest climate change and bring attention to impact that rising sea levels will have around the world.
The two Greenpeace activists began their climb at 9 a.m. and continued to scale the 57-metre statue after members of the Mossos d'Esquadra regional police and fire-rescue teams arrived and cordoned off the monument.

► ► CLICK ABOVE TO WATCH VIDEO ► ►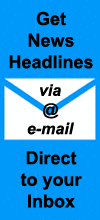 The Colón monument is an iconic 130-year-old landmark at the foot of the Ramblas in Barcelona's old port area, built for the 1888 Barcelona Universal Exposition. It commemorates the "discovery" of the Americas by 14th century explorer Christopher Columbus (Cristobal Colón), who many Catalans believe was neither Spanish nor Italian, but rather born in Catalonia.
The Greenpeace climbers carried banners that referenced the nationwide general elections slated for Sunday with the message "Think, Vote, Act", placing a giant diver's mask and snorkel on the face of the Columbus statue to bring attention to rising sea levels that scientists and climate change activists say will negatively impact the world's coastal communities in only a few years' time.
A Greenpeace spokesperson said the direct action protest was designed to raise awareness of the problems presented by climate change in advance of Spain's election because candidates of all major political parties had failed to adequately address the problem in televised debates or in their party election platforms.
► Read More in Spanish at El Periódico, El País and La Vanguardia …
► Click to read more news about Greenpeace activities in Spain …
Check out more news from Spain about:
► Animal Welfare ► Corruption/Transparency ► Discrimination ► Education ► Children's Rights ► Environment & Sustainability ► Fair Trade & Development Aid ► Healthcare ► Historical Memory ► Housing & Homelessness ► Human Rights ► Justice ► Labour & Unemployment ► LGBT ► Peace & War ► Politics ► Poverty ► Refugees & Migration ► Technology & Social Enterprise ► Women's Rights

All images at ProgressiveSpain.com are the copyright of their respective authors/owners and are reproduced here for non-commercial, journalistic purposes in accordance with Fair Use doctrine. All other content is Copyright © 2015-2019 ProgressiveSpain.com and is licensed under a Creative Commons Attribution-NonCommercial-ShareAlike 4.0 International License.