One day after pensioners scuffled with helmeted riot police outside Spain's Congress Wednesday, Spain's Labour minister has threatened that the government of President Pedro Sánchez will resort to the use of a decreto ley (decreed law) to pass reforms to Spain's retirement pension system if a congressional committee presided over by the conservative Partido Popular (PP) does not soon reach agreement on the reforms.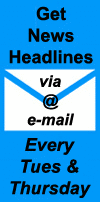 Speaking at a conference organized by the Nueva Economía Fórum on Thursday, Labour Minister Magdalena Valerio called on the congressional Pacto de Toledo committee on pensions reform to resume its deliberations as soon as possible or "the government will legislate" the reforms needed to resolve the situation.
The Sánchez administration, she added, "hopes not to have to do this via decreto ley", in a clear threat that the government is prepared to push through the reforms via the express decree legislative process, bypassing debate and avoiding amendment by other political parties in Congress.
On Wednesday, Spanish pensioners protesting the dwindling purchasing power of retirement pensions clashed with police outside Congress in downtown Madrid as inside the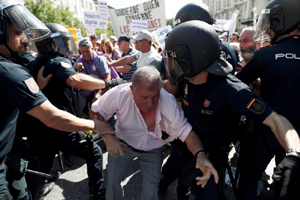 Congress building the Pacto de Toledo committee failed to meet to break an impasse in efforts to reach common ground among political parties.
Spain's public pensions system, known as the Pacto de Toledo, dates to 1995, when Spain's political parties and labour unions agreed in the city of Toledo to a broad reform that streamlined the system and instituted a formula of worker and employer contributions aimed to guarantee the system's existence for future generations.
The president of the congressional committee, veteran PP Deputy Celia Villalobos, has said that the reforms will be agreed to and legislation moved out of the committee in October. The current impasse, which led to suspension of the committee meeting Wednesday, is over whether or not publish pensions should be inflation-indexed every year to Spain's IPC consumer price index and rely on government subsidies to maintain the inflation index, or whether it should be brought into line with the IPC for a limited period only and then returned to the original Pacto de Toledo formula.
In recent weeks, Labour Minister Valerio has repeatedly warned that the new Socialist party (PSOE) government will consider pushing through the reforms it deems necessary via the express decreto ley, a move which Spain's leading trade unions have also urged.
► Read More in Spanish at EFE via COPE, El País and 20minutos …
► Click to read more news about Pensions, Labour & Unemployment in Spain …
Check out more news from Spain about:
► Animal Welfare ► Corruption/Transparency ► Discrimination ► Education ► Environment & Sustainability ► Fair Trade & Development Aid ► Healthcare ► Historical Memory ► Housing & Homelessness ► Human Rights ► Labour & Unemployment ► LGBT ► Peace & War ► Politics ► Poverty ► Refugees & Migration ► Technology & Social Enterprise ► Women's Rights