Spain has joined the international LGBTI community's celebration of Pride Month during June, kicking off a slate of celebrations and activities Thursday in dozens of cities and towns across the country.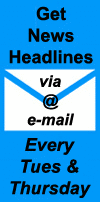 The largest celebrations are being held in Madrid and Barcelona, with marches expected to bring thousands of LGBTI rights supporters into the streets. Similarly, rallies are being held along with awards ceremonies and other activities in Zaragoza, Salamanca, Ovieda, Huelva, Denia, Torremolinos, Xativa and many more communities nationwide.
In Madrid, LGBTI organizations have organized under the banner of MADO 18, or Madrid Orgullo 2018 (Madrid Pride 2018), marking  40 years since the first gay pride march was held in the city. Kicking off celebrations on Thursday, Madrid will see a week of activities and celebrations (see full agenda, here), building to a massive march on Saturday 7th July, which organizers say will include more than 2 million participants.
In Barcelona, organizers of the LGBTI pride celebrations have likewise slated a full agenda of pride events running throughout the weekend, including music, dance, family activities, conferences, book presentations and more. Under the banner of Pride BCN, organizers say they expect a march and rally slated for Saturday to draw 350,000 participants.
This year's pride celebrations have not been without controversy, however, with organizers of the Barcelona pride activities accused by the Crida LGBTI collective of allowing corporations with dubious records of respect for LGBTI rights to "pink wash" their image through sponsorship of Pride BCN 2018 activities, including Saturday's march.
In Madrid, organizers of the MADO 18 celebrations have pointedly not invited the conservative Partido Popular in the regional Community of Madrid to participate, saying regional leader Alfonso Garrido has failed to honor a commitment to establish a roadmap for a greater commitment to LGBTI rights by the local party.
► Read More in Spanish at El País, La Vanguardia and El Confidencial …
► Click to read more news about LGBTI rights in Spain …
Check out more news from Spain about:
► Animal Welfare ► Corruption/Transparency ► Discrimination ► Education ► Environment & Sustainability ► Fair Trade & Development Aid ► Healthcare ► Historical Memory ► Housing & Homelessness ► Human Rights ► Labour & Unemployment ► LGBT ► Peace & War ► Politics ► Poverty ► Refugees & Migration ► Technology & Social Enterprise ► Women's Rights