• ¡Teruel Existe! ~ Teruel Exists! •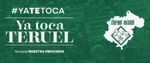 ¡Teruel Existe! (Teruel Exists!) is a citizens movement in the province of Teruel in southern Aragon, which is the second-least populated province in Spain and emblematic of a socio-economic phenomenon that has come to be called España vaciada (literally, the "emptied" or "abandoned" Spain).
Since its formation in 1999, the movement has been calling for equal treatment of the province by central government authorities in Madrid in the form of increased investment in infrastructure and public services.
In it's first-ever outing in national elections, ¡Teruel Existe! presented candidates in the November 20199 general election not as a political party, but as a temporary agrupación de electores ("grouping of electors"), which under Spanish law allows a group of citizens formed around a specific goal to temporarily form an election platform to present candidates for a specific election.
In the election, ¡Teruel Existe! won a total of 19,696 votes, for a 0.08 percent share of the nationwide vote, giving the movement one seat in Spain's 350-member national Congress of Deputies and two seats in Spain's Senate.
More information about ¡Teruel Existe! can be found at the following links:
Updated as of 12/2019
Check out more news from Spain about:
► Animal Welfare ► Corruption/Transparency ► Discrimination ► Education ► Elections ► Environment & Sustainability ► Fair Trade & Development Aid ► Healthcare ► Historical Memory ► Housing & Homelessness ► Human Rights ► Labour & Unemployment ► LGBT+ ► Peace & War ► Politics ► Poverty ► Refugees & Migration ► Technology & Social Enterprise ► Women's Rights

All images at ProgressiveSpain.com are the copyright of their respective authors/owners and are reproduced here for non-commercial, journalistic purposes in accordance with Fair Use doctrine. All other content is Copyright © 2015-2019 ProgressiveSpain.com and is licensed under a Creative Commons Attribution-NonCommercial-ShareAlike 4.0 International License.