• Partido Animalista Contra el Maltrato Animal ~ Animalist Party Against Mistreatment of Animals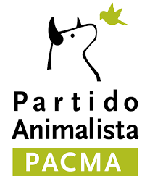 The Partido Animalista, also known by its initials PACMA (Partido Animalista Contra el Maltrato Animal), is a 13-year-old Spanish activist organization and political party that advocates against cruelty and abuse toward animals as part of its overall vision of defending animal rights, protecting the environment and advocating for social justice.
In Spain's 26th June 2016 general election, the party won 284,848 votes for 1.19 percent of the total vote nationwide, but as a result of Spain's skewed electoral legislation that benefits incumbent parties, PACMA was not awarded any seats in the Congress of Deputies, the lower house of parliament, nor did it win any seats in the Senate.
The party has been at the forefront of the movement to abolish bullfighting in Spain and to ban the bull-baiting and bull-taunting of correbou and bou embolat events during local festivals in Valencia and Catalonia; it has also long advocated to abolish the use of wild animals in circus acts in Spain, and has been directly involved in raising public awareness about hunters' mutilation and abandonment of greyhounds and other breeds of hunting dogs following the annual end of hunting season in Spain each February.
Presenting candidates for election since 2004 on the party's animal rights platform, PACMA has seen steady growth in the number of votes obtained. In the most recent municipal elections in May 2015, the party netted netted 55,228 votes for candidates it presented in 29 municipalities nationwide. In May 2015 autonomous regional elections, PACMA fielded candidates in 13 of Spain's 17 regions and won 102,700 votes; in September 2015, the party won 28,897 votes in Catalonia's regional elections alone.
In the general election of Dec. 2015, under the leadership of PACMA president Silvia Barquero, the party presented candidates across all voting districts nationwide for the first time and received a total of 220,369 votes in Congressional balloting and 1.034 million votes in the Senate election. Because of Spain's skewed electoral system that disproportionately rewards incumbent parties, other parties that received fewer votes overall than PACMA were awarded seats in Spain's Congress, but PACMA was not.
The party successfully gathered and on 19th May presented double the required number of 45,000 signatures from registered voters in order to appear on the ballot nationwide in the 26th June 2016 general elections.
PACMA is sustained entirely by membership fees and individual donations and does not accept loans from financial institutions nor does it accept any government subsidies for its work.
You can find out more and follow PACMA online at the following links:
Updated as of 07/2016
► Go to main page of POLITIFILE DIRECTORY, here …