• Nueva Canarias ~ New Canaries •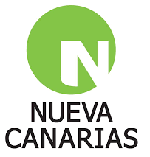 Nueva Canarias (New Canaries) is a is a centre-left Canarian nationalist political party founded on Grand Canary island in 2005 when leading members of the former Iniciativa Canaria Nacionalista (ICAN) split from the Coalición Canaria in order to form their own party.
The party currently has five seats in the regional Canary Islands parliament and is the governing party in the Canaries. In national elections since 2008, NCa has run in coalition either with Spain's Socialist party (PSOE) or the Coalición Canaria (CC).
In Spain's most-recent 10th November 2019 general election, the NCa and CC ran in coalition and won 123,981 votes, for a 0.51 percent share of the total vote, which was down 13,125 votes and 0.02 percent from the last-previous elections in April 2019. The coalition's vote total gave it two seats in Spain's 350-member national Congress of Deputies, with one seat going to NCa and one seat to CC.
You can find out more about the PARTY at the following links:
Updated as of 12/2019
Check out more news from Spain about:
► Animal Welfare ► Corruption/Transparency ► Discrimination ► Education ► Elections ► Environment & Sustainability ► Fair Trade & Development Aid ► Healthcare ► Historical Memory ► Housing & Homelessness ► Human Rights ► Labour & Unemployment ► LGBT+ ► Peace & War ► Politics ► Poverty ► Refugees & Migration ► Technology & Social Enterprise ► Women's Rights

All images at ProgressiveSpain.com are the copyright of their respective authors/owners and are reproduced here for non-commercial, journalistic purposes in accordance with Fair Use doctrine. All other content is Copyright © 2015-2019 ProgressiveSpain.com and is licensed under a Creative Commons Attribution-NonCommercial-ShareAlike 4.0 International License.