• Navarra Suma ~ Navarre Counts •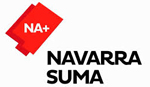 Navarra Suma (literally, "Navarre Counts") is a regional centre-right electoral coalition initially formed to contest both the April 2019 general election and the May 2019 regional election in Spain's northern region of Navarra (Navarre).
Navarra Suma was initially formed as an alliance between the regional Unión del Pueblo Navarro (UPN, Navarrese People's Union) and national centre-right Ciudadanos parties, with some members of the national conservative Partido Popular joining the N+ lists of candidates standing in the regional and general election.
In the April 2019 general election, N+ won 107,619 votes for a 0.41 percent share of the national vote total, giving the coalition 2 seats in Spain's 350-member Congress and 3 seats in the Spanish Senate.
In regional elections one month later, the coalition won 127,346 votes for 36.57 percent of the vote total, giving it 20 of 50 seats in the regional parliament. In municipal elections held at the same time, N+ won 104,846 votes for a 30.53 percent vote share, winning 298 of 1,996 seats on municipal councils throughout Navarre.
In Spain's most-recent 10th November 2019 general election, Navarra Suma won 98,448 votes, a decrease of 8,676 votes from the last-previous elections in April, but because of a lower voter turnout the drop resulted in no change in its 0.41 share of the total vote. The coalition's vote total again translated into 2 seats in Spain's 350-member national Congress of Deputies.
You can find out more about Navarra Suma at the following links:
Updated as of 12/2019
Check out more news from Spain about:
► Animal Welfare ► Corruption/Transparency ► Discrimination ► Education ► Elections ► Environment & Sustainability ► Fair Trade & Development Aid ► Healthcare ► Historical Memory ► Housing & Homelessness ► Human Rights ► Labour & Unemployment ► LGBT+ ► Peace & War ► Politics ► Poverty ► Refugees & Migration ► Technology & Social Enterprise ► Women's Rights

All images at ProgressiveSpain.com are the copyright of their respective authors/owners and are reproduced here for non-commercial, journalistic purposes in accordance with Fair Use doctrine. All other content is Copyright © 2015-2019 ProgressiveSpain.com and is licensed under a Creative Commons Attribution-NonCommercial-ShareAlike 4.0 International License.