• Bloque Nacionalista Galego ~ Gallegan Nationalist Bloc •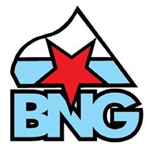 The Bloque Nacionalista Galego (Gallegan Nationalist Bloc, or BNG) is a left-of-centre Galician nationalist movement that defines itself as a "united front" in favor independence for Spain's northwest region of Galicia.
Although some 70 percent of BNG rank-and-file membership identify themselves as "independents", the movement's coalition partners include three small political parties, the Unión do Povo Galego (UPG, or "Gallegan Peoples Union"), Movemento Galego ao Socialismo (MGS, or "Gallegan Movement Toward Socialism") and the Fronte Obreira Galega (FOGA, or "Gallegan Workers' Front"), as well as the Abrente-Esquerda Democrática Galega ("Galician Democratic Open-Left) movement.
The BNG holds 486 municipal council seats across Galicia, as well as 15 of the 75 seats in the Gallegan regional parliament. The movement has presented candidates in every general election held in Spain since 1986 and every European parliamentary election since 1987.
In Spain's most-recent 10th November 2019 general election, BNG won 119,597 votes, for a 0.50 percent share of the total vote, an increase of 25,787 votes and 0.14 percent from the 0.36 percent vote share garnered in the last-previous elections in April 2019. The BNG's vote total gave the party 1 seat, its first-ever in Spain's 350-member national Congress of Deputies.
You can find out more about the BNG at the following links:
Updated as of 12/2019
Check out more news from Spain about:
► Animal Welfare ► Corruption/Transparency ► Discrimination ► Education ► Elections ► Environment & Sustainability ► Fair Trade & Development Aid ► Healthcare ► Historical Memory ► Housing & Homelessness ► Human Rights ► Labour & Unemployment ► LGBT+ ► Peace & War ► Politics ► Poverty ► Refugees & Migration ► Technology & Social Enterprise ► Women's Rights

All images at ProgressiveSpain.com are the copyright of their respective authors/owners and are reproduced here for non-commercial, journalistic purposes in accordance with Fair Use doctrine. All other content is Copyright © 2015-2019 ProgressiveSpain.com and is licensed under a Creative Commons Attribution-NonCommercial-ShareAlike 4.0 International License.