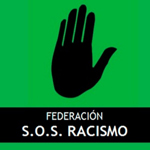 SOS Racismo (SOS Racism) is an umbrella movement of eight distinct organizations,  officially known as the national Federation of Associations of SOS Racismo, that work in various Spanish autonomous regions to combat racism, xenophobia and discrimination directed against immigrants, refugees and ethnic Roma people living in Spain.
The SOS Racismo movement began in Spain at the end of the 1980s and early 1990s in response to the spread of racist and xenophobic attitudes within Spain, in tandem with the appearance of racist groups that had begun to take action targeting immigrants.
Currently, SOS Racismo has affiliates in Aragon, Asturias, Viscaya (Bilbao), Catalonia, Galicia, Guipúzcoa (Donostia-San Sebastián), Madrid and Navarre. Each regional affiliate organization addresses the different contexts in which the phenomena of racism and xenophobia occur in their respective communities. Each SOS Racismo affiliate also provides local Guidance, Information and Complaint Offices (OID), where victims of racially or ethnically motivated discrimination or assault can go to seek counseling and legal advice.
At the national level, SOS Racismo coordinates the regional work of affiliate organizations and since 1995 has published annual reports that analyze the situation of racism and xenophobia in Spain and across Europe, issuing its most recent report in 2017. It also maintains a online web page for denouncing racist aggression and xenophobia.
In addition to its focus on discrimination and attacks against Sub-Saharan African migrants, refugees from Africa and the Middle East and Spain's Roma or gitana communities, in 2017 SOS Racismo developed a new line of action to combat discrimination directed particularly at Muslim women, who because of their clearly identifiable traditional dress are increasingly being denied access to housing and social services in some areas of Spain.
► Learn more about SOS Racismo at the following links online:
Updated as of 03/2018
► Click to read more about Discrimination and Racism in Spain …