► PROACTIVA OPEN ARMS
Proactiva Open Arms is a Spanish non-governmental organization based in Barcelona and dedicated to search-and-rescue operations to save refugees who are stranded at sea while attempting to cross the Mediterranean from North Africa to European shores.
Proactiva was founded as a non-governmental organization by Oscar Camps, owner of the Pro-Activa Serveis Aquàtics lifeguard and water-rescue services company located in Badalona, in response to the flood of Syrian and Iraqi refugees attempting to reach Europe via the eastern Mediterranean in 2015.
The organization's first search-and-rescue action took place off the Greek island of Lesbos in October of 2015, when Proactiva divers participated along with Greek and Turkish fisherman and a Norwegian ship belonging to the European border agency Frontex in rescueing 300 refugees and migrants stranded at sea, 50 of whom drowned before they could be saved.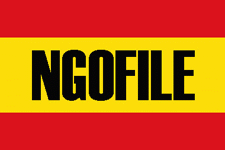 By May 2016, after an agreement between the EU and Turkey made the Aegan Sea route more difficult for migrants to traverse, Proactiva followed the shift in the flow of migrants further west in the Mediterranean and decided to deploy its own ship in the Central Mediterranean to assist stranded refugees coming to Europe from the coasts of Libya.
In July 2016, Proactiva acquired its first vessel through the donation of the luxury yacht "Astral" by Spanish multi-millionaire businessman Livio Lo Monaco. The organization then raised funds to acquire its second ship and by the end of 2016 deployed the Golfo Azzurr, a 30-year-old 43-foot fishing boat with space on board for up to 400 refugees at a time.
The organization has come under increasing pressure in recent months from the governments of Libya and Malta to stop disembarking migrants rescued at sea. The governments and other critics have said that Proactiva's activities only serve to encourage migrants and refugees to attempt the dangerous trip across the Mediterranean. In 2017, a Libyan coastguard vessel fired a warning shot over the bow of the Golfo Azzuro.
Proactiva is the recipient of several awards for its search-and-rescue operations, including the European Citizen Prize in 2016 and the annual ALBA/Puffin Award for Human Rights Activism presented by the Abraham Lincoln Brigades and the Puffin Foundation in New York last year.
► Learn more about PROACTIVA OPEN ARMS at the following links online:
Updated as of 01/2018
► Click to read more about Refugees & Immigration in Spain …