• Oxfam Intermón •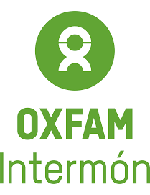 Oxfam Intermón is the affiliate in Spain of the international development aid organisation Oxfam.
Originally founded in 1956 in Barcelona as the Spanish Jesuit congregation's international overseas mission agency, Intermón, the organisation began focusing on development aid in the mid-1960s and a decade later became an independent non-clerical agency, joining Oxfam International as its Spanish affiliate in 1997.
While supporting the work in 92 countries carried out by Oxfam International's 17 national affiliate organisations, Oxfam Intermón itself supports 76 specific development, humanitarian, free trade and social improvement programmes in 39 different countries across Africa, Asia and the Americas.
Established as a not-for-profit foundation with a board of directors that has operational and financial oversight of the organisation in Spain, Oxfam Intermón is headquartered in Barcelona, with four regional offices in Bilbao, Madrid, Sevilla and Valencia, as well as 43 local committees and 38 free-trade shoppes throughout Spain.
► Learn more about Oxfam Intermón at the following links online:
► Read Progressive Spain news coverage of Oxfam Intermón, here …
Updated as of 07/2016