• Médicos Sin Fronteras ~ Doctors Without Borders •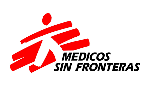 Médicos Sin Fronteras (or Médecins Sans Frontières, MSF), known in English as "Doctors Without Borders," is an international non-governmental organization that since 1971 has provided emergency medical, humanitarian and development aid in war-torn regions and developing countries struck by natural catastrophes and facing endemic diseases.
In Spain, MSF has more than 691,000 members who support the organization through contributions and collaborate in raising funds for the organization's work around the world. The organization operates in Spain through six regional delegate offices located in Barcelona, Madrid, Bilbao, Santiago de Compostela, Malaga and Valencia.
In 2015, more than 30,000 MSF doctors, nurses and other medical professionals, logistical experts, water and sanitation engineers and administrators, provided medical, health and sanitation assistance to communities in more than 70 countries worldwide.
MSF carries out its work on an annual budget of US$750 million, some 89 percent of which is raised from membership fees and donations from individuals, large donors and corporations, with the remaining 11 percent provided through grants from the European Union, national and regional government agencies.
► Learn more about Médicos Sin Fronteras at the following links online:
► Click to read more news about Spain and Development Aid …
Updated as of 02/2018