• Fundació Arrels ~ Arrels Foundation •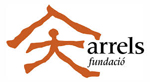 The Fundació Arrels (Arrels Foundation) is a Barcelona-based non-governmntal organisation founded in 1987 and dedicated to assisting homeless people through the city, raising public awareness about their situation and improving conditions and changing government policies to better help people at risk of social exclusion.
The Arrel foundation estimates that since its inception its professional staff and volunteers have helped more than 9,000 homeless individuals to take control of their lives and regain their dignity, through its combined offering of services that include temporary housing, meals, social attention and health care.
In its work with the homeless in Barcelona, Arrels relies on 47 paid staff and the work of 400 volunteers and contributions from 4,000 suppporters to attend to the city's homeless through daily outreach, regular assistance and with the input and guidance of the homeless people themselves as to their needs and preferences on the path to recovering their lives.
Arrels coordinates its efforts with European, national, regional and neighbourhood organisations, working closely with European Federation of National Organisations Working with the Homeless (FEANTSA), the Barcelona city government's Red de Atención a personas sin hogar (XAPSLL, Network of Attention to Homeless People) and the Housing Agency of Catalonia, among others.
► Learn more about Fundació Arrels at the following links online:
► Read Progressive Spain news coverage of homelessness in Spain, here …
Updated as of 07/2016