• Ecologistas en Acción ~ Ecologists in Action •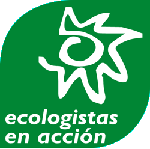 Ecologistas en Acción (Ecologists in Action) is a non-governmental umbrella organisation of more than 300 environmentalist NGOs throughout Spain that was founded in December 1998 and is one of the top five environmental groups active in Spain today. The organisation's guiding principles are built around the core concept of social ecology, which views environmental problems and the global ecological crisis as rooted in an increasingly unsustainable and globalized model of economic production and consumption.
Ecologistas en Acción works to develop campaigns that both denounce actions by the government, private corportions and individuals that damage the environment and building public awareness about a broad range of issues and problems related to agri-business, water quality, anti-globalisation, climate change, nature and wildlife conservation, air and water pollution, energy, marine environments, toxic and nuclear waste, transportation and urban planning and development.
The organisation works through a variety of communications channels to build public awareness, relying on outreach to traditional news media, a strong presence on social networks, production and dissemination of video content via the online Ecologista TV video channel and publication of its own magazine, El Ecologista.
With an annual budget of approximately 400,000 euros, Ecologistas en Acción is financed through membership fees from the environmentalist groups that make up the confederation, as well as grants and contributions from European and international agencies and non-profit groups, and the sale of branded merchandise and the organizing of occasional fundraising events. The organisation does not accept contributions from banks, multinational corporations or trade groups or associations from industries that have any considerable impact on the environment.
► Learn more about Ecologistas en Acción at the following links online:
► Read Progressive Spain news coverage of Ecologistas en Acción, here …
Updated as of 07/2016