• Comisión Española de Ayuda al Refugiado (CEAR) ~ Spanish Committee for Refugee Aid •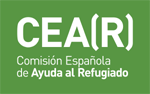 The Comisión Española de Ayuda al Refugiado (CEAR, the Spanish Committee for Refugee Aid) is a non-governmental humanitarian organization founded in 1979 with the aim of defending the rights of refugees, stateless persons and migrants in need of international protection or at risk of social exclusion.
In addition to defending the right of asylum and human rights, CEAR believes in working toward the eradication of the root causes of forced displacement, in defending migration policies within an overall comprehensive framework of respect for human rights and in the concept of universal citizenship, where all people have access to all rights and are able to exercise them effectively.
The organization has a long track record of working on behalf of human rights and refugees in Spain, having played a prominent role in lobbying the passage of Spain's first Asylum Act of 1984. CEAR also was a pioneer in Spain and in Europe in developing criteria to recognize persecution due to gender or sexual orientation as a basis for seeking asylum and as deserving of international legislation to protect the rights of those particularly persecuted because of their sexual orientation.
CEAR's work during the 2015 European refugee crisis was considered crucial toward achieving a Spanish government commitment to accept some 16,000 refugees by the end of 2017 as part of its agreement with the European Union. The organisation's 154 staff members work alongside more than 450 volunteers through its offices in Spain, on the front lines of refugee rescue in the Mediterranean and in the processing of asylum requests and providing resettlement and other assistance to refugees accepted to Spain.
► Learn more about CEAR at the following links online:
► Read Progressive Spain news coverage of CEAR, here …
Updated as of 07/2016