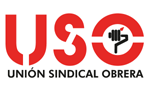 The Unión Sindical Obrera (USO) is a Spanish trade union that emerged in the 1950s out of Spain's Catholic Workers movement and was founded in 1961 as a clandestine organization, during the dictatorship of Francisco Franco.
It is today Spain's third-largest labour organization, with more than 117,000 members, nearly 11,000 union representatives in the workplace and 400 offices spread across all of Spain's 17 autonomous regions and communities, as well as the autonomous territories of Ceuta and Melilla.
Influenced in the 1950s by Catholic church teachings on the dignity of work and by France's Catholic Worker movement, the USO followed the lead of its French counterpart, the Catholic Worker-influenced French Democratic Confederation of Labour (CFDT), in advocating worker self-management and independent trade unionism that refused affiliation with political parties.
The union operated in secret until the death of Franco in 1975 and at the outset of Spain's transition to democracy suffered a schism in its ranks, with some local chapters joining the Socialist party-affiliated UGT and others leaving to form the new CCOO labour federation, which had strong links to the Spanish Communist Party (PCE).
USO affiliates are grouped in federations around the industry sectors of Manufacturing, Services, Public Employees, Education and Private Security. The federation says it has a particularly strong presence in the private security industry, representing workers at one of Spain's largest private security firms, and says its locals represent employees in government, the corporate sector and private schools nationwide. In all, the USO says it currently participates in negotiations of more than 500 collective bargaining agreements in private and public workplaces across Spain.
► Learn more about the USO at the following links online:
Updated as of 01/2018
► Click to read more about Labour & Unemployment in Spain …