► More than 300 NGOS, unions backing Global Climate Strike action in Spain
► Marches and rallies planned for 32 Spanish cities, with more to be announced
Hundreds of environmentalist groups, non-governmental organizations, trade unions and others are joining with personalities from the work of entertainment and the arts to stage dozens of demonstrations in cities across Spain, part of Global Climate Strike events taking place around the world during the week of 20-27th September.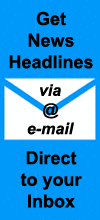 According to organizers of the event, more than 300 groups already have signed up to the demonstrations in Spain, which will take place on Friday 27th of September under the banners of four anti-climate change platforms — Juventud X El Clima / Fridays for Future, 2020 Rebelion por el Clima, Alianza por el Clima and Emergencia Climática Ya.
Participating organizations have signed onto a manifesto calling on governments around the world to acknowledge the truth about the extent of global warming and climate change worldwide, show their commitment to combating the problem by symbolically declaring a climate emergency, take specific actions to combat carbon emissions and global warming and show solidarity with groups and communities around the world who will be most negatively impacted by climate change and rising sea levels.
Environmental campaign group Greenpeace España has already listed 32 cities nationwide where Global Climate Strike marches are planned (see list of cities and times at bottom of Greenpeace press release, here) and more cities and towns around the country are expected to sign on to the campaign in the coming week.
► Read More in Spanish at El País, Energías Renovables and Voz Populi …
► Click to read more news about the Environment and Sustainability in Spain …
Check out more news from Spain about:
► Animal Welfare ► Corruption/Transparency ► Discrimination ► Education ► Children's Rights ► Environment & Sustainability ► Fair Trade & Development Aid ► Healthcare ► Historical Memory ► Housing & Homelessness ► Human Rights ► Justice ► Labour & Unemployment ► LGBT ► Peace & War ► Politics ► Poverty ► Refugees & Migration ► Technology & Social Enterprise ► Women's Rights

All images at ProgressiveSpain.com are the copyright of their respective authors/owners and are reproduced here for non-commercial, journalistic purposes in accordance with Fair Use doctrine. All other content is Copyright © 2015-2019 ProgressiveSpain.com and is licensed under a Creative Commons Attribution-NonCommercial-ShareAlike 4.0 International License.