► Centre-right party blocked by protesters, chants of No Pasaran! at pride event
► Critics complain of Ciudadanos alliances with far-right, anti-LGBT VOX party
Leaders of Spain's centre-right Ciudadanos party were forced to leave the ranks of marchers in the 2019 Madrid LGBT pride parade on Saturday by parade participants who stopped the march to protest the party's alliances in government with far-right party VOX, which has expressed virulantly anti-LGBT views since bursting onto Spain's political scene in the last year.
The two parties joined together to bring the conservative Partido Popular to power in the southern region of Andalucia earlier this year and last month voted together to elect the PP's candidate, José Luis Martínez-Almeida, as the new mayor of Madrid. LGBT activists in Spain say they are alarmed by VOX's vocal pledge to remove the annual Madrid pride celebrations from downtown Madrid and restrict it to an area on the city's outskirts.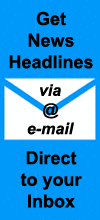 Critics of Ciudadanos' presence in the annual march said the centre-right party was cynically engaging in rainbow washing, or using the photo opportunity of the LGBT pride march to associate itself with liberal values even as it negotiates with and forms alliances with the far-right VOX.
During the parade, one group of women wearing white, winged bonnets like those worn by women in author Margaret Atwood's book, 'The Handmaid's Tale', staged a protest performance directly in front of the Ciudadanos contingent charging them with supporting the anti-LGBt and anti-feminist rhetoric of VOX.
Another group halted the march and chanted "Go with VOX!", "Ciudadavox" and the Republican rallying cry in defense of Madrid during the Spanish Civil War, "No Pasaran!" ('They Shall Not Pass'). With the parade frozen for nearly an hour, the Ciudadanos leadership contingent ultimately left the parade under police escort as the crowd hurled insults and objects at them.
► Read More in Spanish at El Diario, La Vanguardia and El Periódico …
► Click to read more news about LGBT rights in Spain …
Check out more news from Spain about:
► Animal Welfare ► Corruption/Transparency ► Discrimination ► Education ► Children's Rights ► Environment & Sustainability ► Fair Trade & Development Aid ► Healthcare ► Historical Memory ► Housing & Homelessness ► Human Rights ► Justice ► Labour & Unemployment ► LGBT ► Peace & War ► Politics ► Poverty ► Refugees & Migration ► Technology & Social Enterprise ► Women's Rights

All images at ProgressiveSpain.com are the copyright of their respective authors/owners and are reproduced here for non-commercial, journalistic purposes in accordance with Fair Use doctrine. All other content is Copyright © 2015-2019 ProgressiveSpain.com and is licensed under a Creative Commons Attribution-NonCommercial-ShareAlike 4.0 International License.