► Activists say Saudi coalition uses weapons to target civilians in Yemen war ►
Police in the Spanish port city of Bilbao released nine activists from Greenpeace España Saturday following their arrest during a direct-action protest early Friday against the sale and shipment to Saudi Arabia of Spanish military-grade armaments, which Greenpeace says are being used by the Saudi military and its allies against civilian targets in Yemen.

► ► CLICK ABOVE TO WATCH VIDEO ► ►
On Friday morning, a group of 20 Greenpeace activists in wet-suits and with signs in Spanish, English and Basque that read "Spanish brand weapons to kill civilians" arrived in rubber Zodiac boats to surround a Saudi ship docked in the port of Bilbao and scheduled to receive Spanish made armaments for delivery to Saudi Arabia.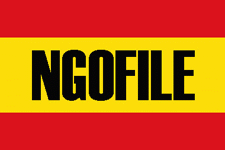 Following the Greenpeace protest, on Saturday hundreds of activists from Basque non-governmental organizations gathered in downtown Bilbao to join in protesting the apparent indiscriminate bombing by the Saudi-led coalition of schools, markets, homes, hospitals and the Yemeni civilian population on the pretext of combating terrorism.
Greenpeace says the government of Spain has used the country's official secrets act to conceal from the public exact details of the amount of weaponry the country's armaments manufacturers are shipping to the Saudis. Those shipments, the organization says, are illegal because there are indications the weapons are being "used to violate international humanitarian law and human rights" in the war in Yemen.
Since the Yemeni war broke out in March 2015, more than 9,245 civilians have been killed and 52,807 people wounded in attacks by both sides in the conflict, Greenpeace says, noting that from 2014-2016 the Spanish government has authorized the export of more than 995 million euros worth of armaments to the countries participating in the Saudi-led coalition.
► Read More in Spanish at El Mundo, El Diario and Europa Press…
► Click to read more news about Peace & Anti-War mobilization in Spain …