► 60% of workforce in temporary-contract jobs, can't find full-time employment
The International Labor Organization (ILO) estimated Monday that while unemployment in Spain will fall to 15.4 percent this year, a surfeit of temporary work opportunities for those actually seeking full-time employment is masking a longer-term deterioration in the work conditions for Spain's labourforce.
In its annual report entitled World Employment and Social Outlook: Trends 2018, the ILO says that employment will rise across Europe this year, particularly in Spain and Greece, the two European countries most-impacted by the economic and financial crisis sparked by the global mortgage-default meltdown of 2008.
► Download PDF of ILO's World Employment and Social Outlook: Trends 2018 …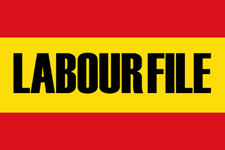 Yet despite the positive projection for Spain, ILO general director Guy Ryder said in presenting the report that the "still high levels of unemployment are very worrying" while the recovery of Spain's labour market has been marked by the "big problem of the nature of the contracts of those who work, such as high levels of unwanted temporary work."
According to the ILO report, involuntary part-time or temporary contract work by those who would prefer a full-time permanent job accounts for more than 60 percent of employment in Spain. In addition, the report warned that "the greater weight of the services sector [in Spain] leads to more situations of underemployment and low wages," singling out "new forms of employment" often linked to the digital economy and outsourcing of work tasks to self-employed, free-lance workers.
The ILO warned that such "emerging forms of employment, while offering greater flexibility and autonomy, may also be related to the worsening of the general conditions of work," including longer hours and greater intensity of work, as well as limited or no access to social benefits associated with full-time jobs.
► Read More in Spanish at 20minutos, Europa Press and El Diario …
► Click to read more news about Labour & Unemployment in Spain …