• Asociación Ve-la luz ~ 'See the Light' Association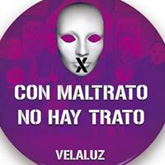 The Asociación Ve-la luz ('See the Light' Association) was formed by a group of women of all social and professional backgrounds in Galicia in 2010 with the mission of combating gender violence and domestic abuse in Spain and focusing their efforts on increasing attention to prevention of gender violence, providing support for victims of abuse and facilitating the reporting and prosecution of gender violence crimes.
The organization began taking public actions in Santiago of Compostela that year, begun by 11 women dressed in black and white with tape across their mouths to draw attention to the silent victims of gender violence, a symbolic protest aimed to "give voice" to the plight of women and children victims and raise public awareness about gender violence across Spain. Other groups of women in Malaga, Madrid, Leon and Galicia joined in the effort and regular rallies and protests were held in 2010-2011 across Spain.
Budget cuts to government programs in Galicia for the prevention of gender violence and support of victims prompted Ve-la luz to again take to the streets in 2013 in Galicia to publicize the negative impact the austerity cuts were having on women and children victims of gender violence. In October 2013, they carried their protests to Madrid with the widely publicized first hunger strike of women victims of gender violence, with 10 women camped out in Madrid's Puerta del Sol for a month, subsisting only on fluids in what came to be known as the protest of las Mujeres del Sol.
The hunger strike ended after the Galician regional parliament agreed to form an Investigative Committee to look into the gender-violence problem in Galicia and develop legislation to strengthen prevention, support, reporting and prosecution for offenders.
Though the regional legislation has not yet been passed in Galicia, Ve-la luz activists continue their struggle and most recently have been at the forefront of women's rights and feminist groups pushing for a national pact among political parties represented in the federal Congress of Deputies that will result in stronger federal legislation aimed at combating gender violence in Spain.
► Learn more about the Asociación Ve-la luz at the following links online:
► Read Progressive Spain news briefs on gender violence & women's rights, here …

Updated as of 04/2017