• Médicos del Mundo ~ Doctors of the World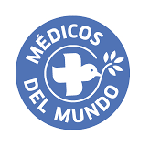 Médicos del Mundo is the Spanish affiliate of Médecins du Monde (MdM), an international non-governmental organization that provides free and timely medical care in emergency situations, long-term medical care to vulnerable populations and advocates for equal access to long-term, sustainable healthcare worldwide.
Founded in 1980 by a group of French doctors, including former Medecins Sans Frontieres co-founder Bernard Kouchner, MdM has offices in fourteen countries and has been working since 1988 in Spain, where Médicos del Mundo España is registered as a non-profit association under Spanish law.
MdM receives monetary donations and donated supplies from individuals, corporations and other organizations and raises funds through the sale of MdM branded gifts and products. It regularly publishes its accounts and the result of independent audits on its website.
► Learn more about Médicos del Mundo at the following links online:
► Read Progressive Spain news coverage of Médicos del Mundo, here …
Updated as of 10/2016