• SOS Galgos ~ SOS Greyhounds •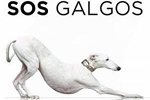 SOS Galgos was founded in Barcelona in the year 2000 and works to defend the rights and promote the well-being of Spanish greyhound dogs (galgos, in Spanish) used in hunting wild rabbit and then often abandoned, killed or cruelly mutilated by their hunter-owners at the end of each hunting season.
SOS Galgos was established following the 1999 closure of the Barcelona greyhound track, prompting the organisation's co-founders to launch a campaign to save the 700 racing greyhounds employed at the track from deplorable conditions, deteriorating health and death. Enlisting the support of international organisations, SOS Galgos overcame the indifference of authorities in Spain and the Catalonia region of Barcelona in order to save many of the animals and arrange for adoptive homes.
In addition to its greyhound rescue efforts and adoption programmes, SOS Galgos is also very active in raising public awareness through education and media campaigns about the cruel and inhumane treatment of greyhounds, while maintaining its efforts to secure regional and national legislation to create more effective regulation of dog breeding in Spain and to penalize those found guilty of cruelty toward greyhounds, podencos and other dog breeds.
SOS Galgos is funded through membership subscriptions, individual donations and sales of gift items through the organization's online shoppe.
► Learn more about SOS Galgos at the following links online:
► Read Progressive Spain news coverage of SOS Galgos, here …
Updated as of 07/2016