• Asociación LGTB+H de la Comunidad de Madrid y de las Universidades Complutense y Politécnica ~ LGTB+H Association of the Community of Madrid and the Complutense and Polytechnic Universities •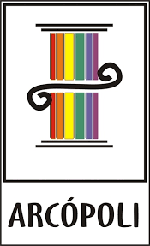 Arcópoli is a Madrid-based association of LGBT and heterosexual students who support the full social and legal equality of lesbian, gay, bisexual and transgender individuals in Spanish society. An independent, non-partisan and non-denominational organization founded in 2004, the association represents students in the Superior Technical School of Architecture of Madrid (ETSAM), the Polytechnic University of Madrid (UPM) and the Complutense University of Madrid (UCM).
As part of its activities, Arcópoli engages in educational outreach to address the needs of LGBT students and teachers at educational institutions in the Community of Madrid, while organizing lectures by its members and by experts on various topics related to sexuality, health and rights of LGBT people.
In particular, Arcópoli works to promote responsible sexual education and to educate the LGBT community and others about the prevention of HIV-AIDS and the implementation of programs of support and solidarity towards HIV-positive people. The organisation also provides counseling and support to LGBT people living in a social environment in which they feel compromised because of their sexual orientation or gender identity and it works to promote job training, career counseling and inclusion of LGBT individuals in the workplace.
Intent upon raising public awareness about homophobic, transphobic and biphobic behavior in society, Arcópoli vigorously denounces and protests attacks and assaults against lesbian, gay, bisexual and transgender individuals and works within the LGBT community in Madrid to ensure speedy and complete reporting of instances of violence and hate crimes directed at LGBT people.
► Learn more about Arcópoli at the following links online:
► Read Progressive Spain coverage of LGBT news, here …
Updated as of 07/2016