• Partido Socialista Obrero Español ~ Spanish Socialist Workers' Party (PSOE)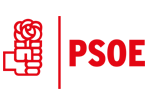 Spain's Partido Socialista Obrero Español, or PSOE, was founded in 1879 and is the country's oldest political party and largest party on the left of Spain's political spectrum. A Socialist and Marxist party for the first 100 years of its existence, after the 1975 death of dictator Francisco Franco the PSOE jettisoned its Marxist nomenclature in 1979 and became the centre-left democratic-socialist party that it remains today.
A full member party of the Socialist International since 1951, the PSOE is also a member of the international Progressive Alliance of social-democratic political parties and of the pan-European Party of European Socialists, currently holding 14 of Spain's 54 seats in the European Parliament.
In Spain's general election of Dec. 2015, under the leadership of General Secretary Pedro Sánchez the PSOE won 5.531 million votes (22.01 percent of total votes cast), giving it 90 of 350 seats in the Congress of Deputies, thus making it again the leading opposition party within Spain's lower house of parliament.
In Spain's 26th June 2016 general election, the party's vote count fell from the December 2015 general election total, winning 5.425 million votes for 22.66 percent of the total vote nationwide. While the party was awarded four fewer seats in the Congress of Deputies, with a total of 85 seats it remains the second largest party represented in Spain's lower house of parliament.
In the 1920s, the PSOE was the only party on the political left that was tolerated, allowed to organize and even granted cabinet-level posts during the 1923-31 dictatorship of Miguel Primo de Rivera, a situation which gained it the lasting enmity of other left-wing parties and movements. The PSOE played a leading role in the coalition governments of the 1931-33 Second Republic period and in February 1936 was part of the Popular Front coalition of left-wing, anarchist, communist and nationalist parties that won the general election. During Spain's 1936-39 Civil War, the PSOE presided over the Republican government under the administrations of prime ministers Francisco Largo Caballero y Juan Negrín.
After the Civil War, the PSOE remained a clandestine organization with many of its leadership forced into exile until 1977, when following the death of dictator Francisco Franco the country underwent a democratic opening that is known as the "Democratic Transition" period. Since that time, the PSOE has governed Spain on two occasions: for 14 consecutive years from 1982-1996 under PSOE General Secretary Felipe González and again from 2004-2011 under party General Secretary José Luis Rodríguez Zapatero.
More about the PSOE can be found online at the following links:
Updated as of 07/2016
► Go to main page of POLITIFILE DIRECTORY, here …