• Junts per Catalunya ~ Together for Catalonia •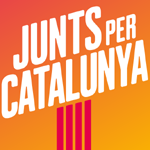 The Catalan regional political movement known as Junts per Catalunya (JxCAT, Together for Catalonia), is an electoral platform formed in November 2017 and focused at the time on the re-election of former Catalan President Carles Puigdemont in the region's 21st December 2017 elections.
JxCAT is not synomymous with Puigdemont's own PDeCAT party (Partit Demòcrata Europeu Català, Catalan European Democratic Party), but was created for the 2017 elections to field a broad-based parliamentary list of candidates known as the Llista del President (President's List), who were hand-picked by Puigdemont from among PDeCat members and independents loyal to the former president.
The movement's strategy was to attain the largest number of votes among pro-independence voters in the 21st December elections, thereby re-vindicating Puigdemont's claim to be the president legítim (legitimate president) of Catalonia, following the imposition of direct rule of the region by the central government in Madrid under the terms of Article 155 of the Spanish Constitution, triggered by a vote of Spain's Senate on 27 October.
Prior to formation of JxCAT and the list of candidates led by Puigdemont, in early November the former president fled Spain for Brussels to avoid arrest when he failed to appear for a court hearing on charges of rebellion, sedition and misuse of public funds. The charges, for which Puigdemont is still wanted in Spain, are related to Catalonia's 1st October 2017 independence referendum and subsequent declaration of independence by the Catalan Parlament, in defiance of warnings from Spain's Constitutional Court that both actions were in illegal under the terms of the country's 1978 Constitution.
In Spain's most-recent 10th November 2019 general election, JxCAT won 527,375 votes, for a 2.19 percent share of the total vote, which was down from 2.36 percent in the last-previous elections in April 2019. The party's vote total garnered them one additional seat for a total of 8 in Spain's 350-member national Congress of Deputies.
You can find out more about Junts per Catalunya at the following links:
Updated as of 12/2019