• Euskal Herria Bildu (EH Bildu) ~ Basque Country Unite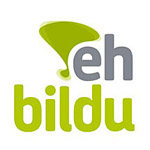 Euskal Herria Bildu (EH Bildu), or 'Basque Country Unite', is a leftwing, pro-independence Basque nationalist electoral coalition established in 2012 by parties comprising what is known in the Basque Country as the izquierda abertzale ('nationalist left'). The coalition currently includes the parties Sortu, Eusko Alkartasuna, Aralar and Alternatiba. It is active in Spain's northern regions of Basque Country, Navarre and Burgos and also has a presence across Spain's northern border in the Basque-speaking region of southwestern France.
In Spain's general election of Dec. 2015, EH Bildu won 219,125 votes (0.87 percent of total votes cast), giving it 2 seats within the Mixed parliamentary group in the Congress of Deputies, Spain's lower house of parliament. In the 26th June 2016 general election, the coalition polled nearly 35,000 fewer votes, winning 184,092 votes (0.77 percent of all ballots cast), but still retaining its two seats in the Congress of Deputies. At the European level, EH Bildu has one seat in the European parliament and forms part of the European United Left–Nordic Green Left (GUE/NGL) parliamentary group in Strasbourg.
The current EH Bildu coalition is an amplified version of its predecessor, Bildu ('Gather'), formed in 2011 to participate in regional elections in the Basque Country that year after Spain's Supreme Court barred the Sortu party from electoral participation due to its perceived ties to Herri Batasuna, a political organisation banned in 2003 because of its alleged roles as the political wing of Basque terrorist organisation ETA, or Euskadi Ta Askatasuna ('Basque Country and Freedom').
All of the parties of the Basque nationalist currently belonging to EH Bildu have renounced the use of violence in achieving independence from Spain. Allegations of ties to ETA and Batasuna persist, however: in 2012 regional elections to the Basque parliament, Bildu's candidate for regional president (known as 'Lehendakari') was university professor Laura Mintegi, who formerly stood as a candidate for Batasuna. In those elections, the coalition won the second greatest number of seats behind the governing PNV-EAJ party, winning 25 percent of the vote total for 21 of 75 seats in the Basque regional parliament.
In 25th September 2016 regional elections, the party again won the second greatest number of votes, with 21.23 percent of the vote total and 17 seats in the regional assembly. The coalition's controversial initial candidate for Lehendakari in the 2016 regional elections was Arnaldo Otegi, released in March 2016 from prison after serving five years of a 10-year sentence for belonging to ETA but barred from political activity until 2020, who had been elected general secretary of Sortu while still in prison in 2013. Otegi's candidacy was rejected by Spain's Constitutional Court in early September in the run-up to the elections and the coalition chose not to place a substitute candidate on the ballot.
You can find out more about EH Bildu at the following links:
Updated as of 09/2016