• Coalición Canaria ~ Canarian Coalition (CC) •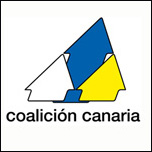 Coalición Canaria (CC) is a regional, centre-right political party in Spain's Canary Islands formed in 1993 as a coalition of five Canarian parties of distinct ideologies, ranging from nationalist to communist and conservative. In 1993, it unseated the Socialist party (PSOE) as the leading party in the regional parliament and has governed the islands ever since. CC transitioned from coalition status to becoming a full political party in 2005.
The CC defines itself as Canarian nationalist but not pro-independence from Spain. It is also pro-European Union and is affiliated in the European Parliament with the centre-right European Democratic Party (EDP) federation of parties that split from the more conservative European People's Party (EPP) group in 2004.
As of 2016, the party holds 20 seats in the 60-seat Canarian parliament, ruling in minority with the consent or abstention of other parties. At the national level, in addition to its one seat in Congress the CC holds two seats in the Senate, the upper house of Parliament. The hallmark of its relationship with Spain's governing parties during the past 23 years has been the barter of its vote in Congress for the investiture of the leading party's candidate in exchange for a guaranteed transfer of sufficient fiscal resources to sustain the government's regional operating budget.
More about Coalición Canaria can be found online at the following links:
Updated as of 11/2019
► Go to main page of POLITIFILE DIRECTORY, here …