• SEO/BirdLife ~ La Sociedad Española de Ornitología •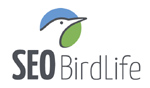 SEO/Birdlife, known by its full name in Spanish as La Sociedad Española de Ornitología (Spanish Association of Ornithology), was founded in 1954 and is Spain's oldest conservationist organization. One of the top five environmental NGOs in Spain, SEO/Birdlife has 50 staff, 11,000 members and 5,000 active volunteers and is the Spanish affiliate of BirdLife International, a global federation of more than three million members in 111 countries, dedicated to the conservation of biodiversity worldwide .
SEO/Birdlife's work toward identifying and protecting bird species and biodiversity in Spain and abroad is built around research, conservation and communication. It collects and publishes detailed data on bird species in Spain, conducts censuses of migratory and other bird species, has campaigned against illegal poisoning and trapping of vultures and other predators and has worked to promote sustainable agriculture in the Ebro Delta region of Southern Catalonia, a migratory stopover area for huge numbers of birds travelling each year between Europe and Africa.
As a means of protecting species and preserving habitat, SEO/Birdlife also owns and maintains some 2,000 hectares of natural reserves in the Ebro Delta, the Canary Islands, Zaragoza, Ávila, León, Cantabria, Teruel, Huesca and Toledo.
Headquartered in Madrid, SEO/Birdlife has regional offices in Andalucía, Aragón, the Canary Islands, Cantabria, Catalonia, Valencia, Extremadura and the Basque Country, with special offices in the Ebro Delta and Doñana, plus 43 local groups working on behalf of the organisation nationwide.
► Learn more about SEO/BirdLife at the following links online:
► Read Progressive Spain news coverage of SEO/BirdLife, here …
Updated as of 07/2016